WHAT IS PLANET PROVIDES?
We are a non-profit organization that uses the power of Pop Culture as a means of supporting diversity and improving literacy in the Kansas City region.
We provide support to select organizations and events that promote diversity and offer opportunities to use the comics arts to support our area of interest.
The goal of Planet Provides is to provide opportunities for volunteers to support pop culture initiatives in its many forms: events, education and advocacy to enhance the effectiveness and reach of other KC area non-profit enterprises benefitting the larger community
Pop culture connects people by giving them something to talk about (and even debate, but in a healthy, non-politics kind of way) and ultimately creates bonds between individuals who may not otherwise have shared interests.
By advancing projects that harness comics and graphic novels along with the power of entertainment: TV, online shows, movies, gaming and mass media—Planet Provides can help advance and popularize authentic narratives about people of all genders, ages and ethnicities in entertainment, and reshape how we see each other and envision America's future.
Comics support literacy, art, reading, creativity, critical thinking, and so many other 21st century skills.
WHERE CAN I PARTICIPATE?
Planet Provides has partnered with Planet Comicon Kansas City, a large, pop culture convention, to support our mission of using pop culture as a means of improving literacy and supporting diversity initiatives year round within the KC region.
CREATE SEPARATE SECTION, LOCATION TBD.
DIVERSITY AND INCLUSIVENESS
Planet Provides also supports a number of not-for-profit organizations that promote and advance our mission. Volunteer opportunities may also be available. (Please note, individual organizations may have a separate list of requirements in order to participate. Please see the individual websites for that information.) Opportunities for Cosplayers are also frequently available.
Walkin and Rollin Costumes, whose mission is to provide any child with special needs equipment a unique and custom built costume, free of charge to the family. www.walkinrollin.com
LITERACY
KC Public and Mid-America Libraries: Free Comic Book Day and other events
Turn the Page KC: working to dramatically increase the number of Kansas City students that can read at grade level by 3rd grade.
---
Apply to Volunteer Now!
[This Would be The Button to Apply]
---
HOW CAN I HELP?
Our partnership with Planet Comicon Kansas City requires the efforts of hundreds of volunteers working to assist all of the fans and invited guests that attend PCKC each year during their annual convention. Please see the the descriptions of the many volunteer opportunities available at PCKC below.
WHAT WILL I GET OUT OF VOLUNTEERING?
Our members and volunteers tell us that they make great friends with similar interests at these events while learning valuable skills and contributing to the geek community.
The events also have perks for participating such as admission for 10 hours contributed, a free t-shirt, and pizza during shifts.
---
VOLUNTEER OPPORTUNITIES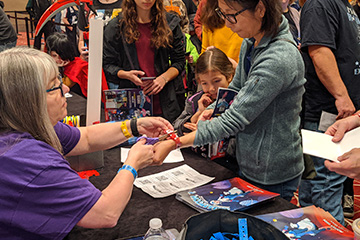 REGISTRATION/WILL CALL
Registration Volunteers help attendees get their wristbands and badges so they can come and go throughout the day.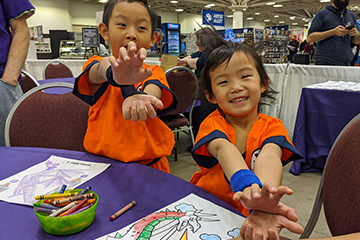 PLANET KIDS
Kids Zone Volunteers help kids wind down from the overwhelming nature of the events with some creative activities so they can recharge.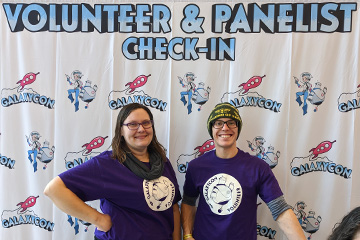 CREW CHECK IN
Event Operations Volunteers help volunteers figure out where to go and what to do as they arrive. They also help with the info desk.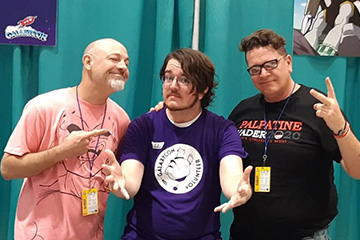 CELEBRITY GUEST RELATIONS
Celebrity Guest Relations Volunteers primarily either assist celebrities as they sign autographs or they help manage lines of attendees waiting.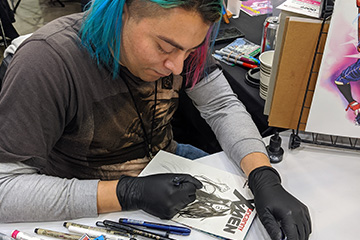 ARTISTS ALLEY COMICS GUEST RELATIONS
Comics Guest Relations Volunteers help creators get to panels, watch their stuff while they're gone, and get them refreshments as needed.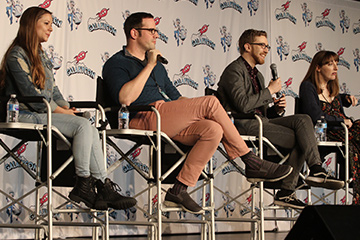 PANELS
Panel volunteers assist with the room and stage setup for each panel session helping with line control, and ensuring enough chairs and mics are ready. Includes proper Audio Visual set up. and execution.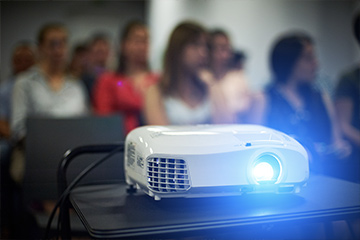 AUDIO VISUAL
Audio Visual Volunteers ensure panelists have the right cables and equipment needed for their presentations.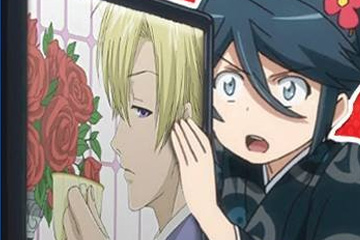 VIEWING ROOMS
Viewing Room Volunteers make sure to play the right anime or cartoon at the scheduled time and keep an eye out on attendees.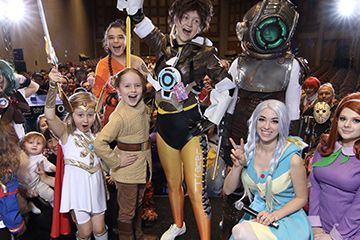 COSPLAY INFO & CONTESTS
Cosplay Info & Contests Volunteers help process contestants at the sign up booth and help line them up at the contests.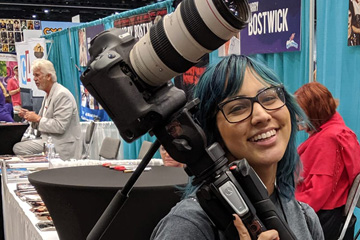 MEDIA TEAM
Media Team Volunteers with their own professional equipment take photos of attendees and guests to take stock of the events.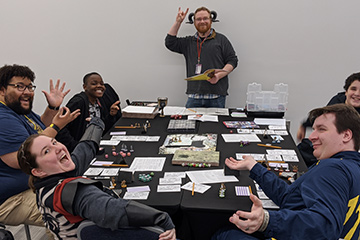 TABLETOP GAMING
Tabletop Gaming Volunteers help attendees check out board games and when possible also teach people how to play some games.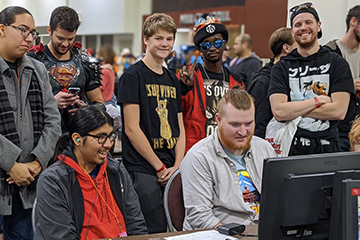 PLANET ENTERTAINMENT ZONE (PEZ)
Video Gaming Volunteers help attendees get registered for tournaments, watch over equipment, and help with setup and breakdown.
---
OUR VALUES
We are in the happiness business. We support festivals with the purpose of delivering joy, nostalgia, and meaningful human connection.
We work hand in hand with volunteers, employees, agents, talent, exhibitors, panelists, track directors, sidekicks, contractors, venue service people, city officials, hotel service people, and so much more. We are all interconnected, and we thrive when every member understands how they create meaningful experiences for festival attendees and team members.
Our guiding principle is to connect people with similar interests.
We commit to being helpful, to lending a hand when asked or when we can see someone needs help.
We value diversity of backgrounds and perspectives as much as we embrace the diversity of geek interests.
We're all on the same team.